Antarctica Cruise Day 7 Petermann Island and Port Lockroy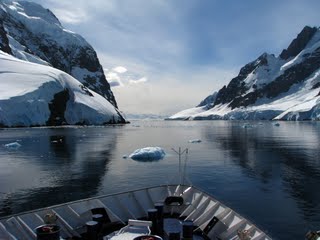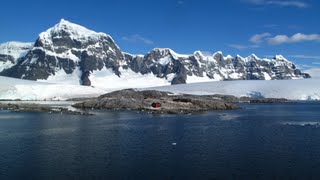 Another night we hardly moved. They didn't anchor to make it easy to move the ship if necessary to avoid ice "without waking the crew." I saw humpback whales at 7 a.m. and penguins in the water. When penguins swim they porpoise - leap out of water then back in. When they are near the ship it is clear they are going somewhere, but when they are farther away it looks like they are dancing for joy!
At 3 am we saw the lights of a passing ship. On our way to our first stop we passed Akademik Ioffe, a Russian arctic ship now in tourist service. Our crew tell us these Russian ships are very sea worthy, but have very basic accommodations, a far cry from our 5-star rooms and meals.
We turned back to the south and landed at Petermann Island. Gentoo penguins - lots of them - and blue-eyed shags, which are cormorants that are stark black and white, like penguins, but they have a long neck. The shag parents were feeding their chicks. Very strange. When a penguin feeds the parent opens their mouth and the chick reaches up and grabs something. It's not so easy for shags: the chick his head in the parent's mouth and keeps pushing. You can actually see the chick's beak pushing out at the back of the parent's neck. Sun! Sun! Bright blue sky. We walked up and over to the far (north or west, I think) side of the island. Some marine mammal was close to shore. Beautiful.
Just before lunch we passed through Lemaire Channel. Outstanding. A highlight of the trip. I was on the bridge as we approached and watched Captain Boczak and crew wind through some "bergy bits," which are ice bergs less than 5 meters high. He can brush them lightly, but must be aware of their underwater contours. Then I went to the top deck to take in the view on both sides. I would have missed lunch for this - good looking mountains close on both sides on a perfect day.
After lunch we landed at Port Lockroy, don't recall the name of the island. It has the world's "southern-most post office." They may have the post office, but not the service. I saw them give our crew a bag of mail to take to Port Stanley in the Falkland Islands to put it in the British mail system. Their stamps say "British Antarctic Territory." The station is a seasonal gift shop, the post office and small museum run by four women here for the summer season.
The gentoos are everywhere! Under foot! No 5-meter-separation rule can be enforced here. A historic quonset hut is being restored, actually replicated in wood framing, by David Attenborough who did the Life in the Freezer series for BBC. I just learned that he was also the moving force behind getting dogs outlawed and removed from Antarctica.
We also went to the adjacent island. (These two islands are next to Wiencke Island.) More blue-eyed shags and an outdoor whale bone "museum." It's just an impromptu arrangement of whale bones - one sculpture and one mongrel skeleton made of mismatched bones, but it's instructive nevertheless to see how huge the animals are. At happy hour time we transited Neumayer Channel - another good one, especially in the low afternoon light of these sunny day. (But I haven't seen one as good as Lemaire.)
The photos are by Corinthian II staff: Lemaire Channel. The captain called this "ice free." Port Lockroy: quonset hut being rebuilt on the left; an old building not being used front and center; the gift shop/museum building on the right. Click to enlarge.