Touring
Oahu, Hawaii
Photo of the full Moon over Diamond Head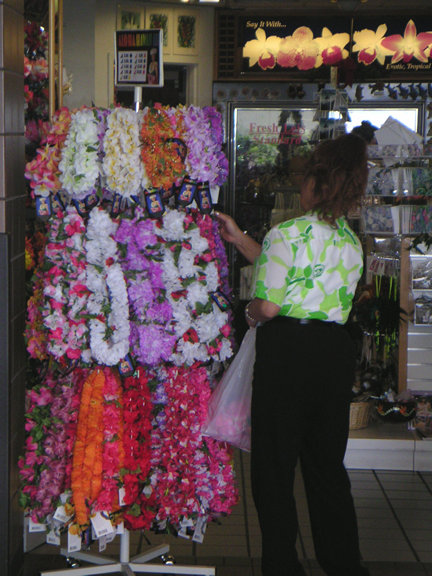 Flowers for sale at the airport
I strongly recommend that everyone who visits Hawaii to spend time on the island of Oahu and Honolulu. It is the political and cultural center of the Pacific. Honolulu casts a shadow over all the other islands because it is central to the life of the Islands.
There are many prime sites to visit ... Pearl Harbor, the battleship Missouri, a national cemetery in a choice little volcano (really!), great beaches, great snorkeling, big-wave surfing in the Winter. The Mountains run down into the city. Vertical mountains that are green with vegetation. The whole island is beautiful. And the most famous beach in the world, Waikiki. It's crowded and lively and I love it!
I have divided my tips by the transportation required. First, what you can do on Waikiki. (Although from one end to the other is a major hike - maybe two miles.) Second, getting off Waikiki that you can do without a car, by using buses or shuttles. Third, things that require a car.
My driving instructions...
Are to help you in planning the trip; they give you an idea where you are going, but not enough to show you every turn. Ask for help when you are there, please. Ask someone in your hotel, since they can give you directions specific to where you are. Some basic access directions are at the bottom of this page. More about driving...
The friendly people of Aloha don't make it easy for tourists to find their way around. After living there almost two years I am convinced that it is intentional; they want you to hire someone, not guide yourself!
Getting to Waikiki from the airport
There are vans, etc. to all hotels.
Driving. Be sure to ask directions. I recommend not taking the H-1 freeway, but driving along by the water. At first it is called Nimitz Highway #92, then Ala Moana. This route gives you a better overview of the city. First you pass a gritty industrial area. You go past downtown and near the old Aloha Tower. You go past the tour boat harbor. From this approach the entrance to Waikiki is a bridge over the Ala Wai Canal to the Hawaii Prince, Ilikai and Hilton Hawaiian Village hotels. Then Ala Moana ends at Kalakaua. For most destinations you turn right on Kalakaua Ave.
Things to see and do on Oahu
On Waikiki
Activities
The best known beach in the world!! Swimming, some surfing (seasonal), ride an outrigger canoe. Snorkeling is possible, but not done much. Walk, it's great. At the Diamond Head end there is the zoo! And a block farther is the Waikiki Aquarium.
Boating. Sunset cruises. One or two operators load passengers off the beach. See next section for more boat tours.
Music. Hawaii has a long legacy of music. Major hotels have shows. Many restaurants, both in hotels and on the street, offer live music. If you walk along the beach side of the big hotels after sunset you might be able to enjoy music and a show for free - at least for 15 minutes or so. In 2002, 2004 and 2006 on weekends they were having a music and movie festival in the late afternoon at the Diamond Head end of Waikiki.
This list looks short. But you will find plenty to do.
By bus or other transportation:
City tours. There is a trolley tour operator or two; they run a circuit of tourist stops so you can get off for a while then catch a later trolley.
Beach - You are already within walking distance of Waikiki Beach, but there is more. Ala Moana beach is just west, towards downtown and the airport, from Waikiki. It is less crowded, there being only one hotel on it. More local people there.
Snorkeling. Waikiki and Ala Moana both have reefs. Take a look at the Google Maps aerial photo - the gray offshore is reef. The fish are there. Not recommended, but you can snorkel there. When we are in Hawaii we rent snorkel gear for the duraction so we can go any time. Snorkel Bob
Shopping
Ala Moana Mall is a large, very vibrant shopping mall. In 2009 it has close to 300 stores, including the big money ones. It is just west of Waikiki, by the beach of the same name.
Hilo Hattie has their own shuttles to their warehouse store. I've never gone there.
Hawaiian history
Museum: the Bishop Museum is several miles from Waikiki. It covers the history and culture of Hawaii and science. I have been there by shuttle. But I have no knowledge of the current travel situation.
Iolani Palace is a real palace - kings and queens reigned there. It is on King Street downtown about two miles from Waikiki. Tours by admission fee. Within a block is the State Capital buildings. The historic Mission Houses Museum is a couple blocks down King Street. Two of the original missionary houses are kept in excellent shape. They were built in 1821 from materials shipped around the horn from New England. Admission fee. Also within a block is the historic Kawaiahao Church. It is built of 10-foot blocks of coral reef. It is known for beautiful Hawaiian singing in the services. Some of the royalty are bureid there.
Around the island
The bus costs the same as in town, so it is cheap and goes everywhere. But it is time consuming and frustrating. So plan carefully.
Boating. Sunset cruises with the famous view of Diamond Head. A bunch of boats operate from a harbor a mile or two west of the downtown end of Waikiki (toward the airport). Look for one that will pick you up at your hotel. But don't take one of these boats for a tour of Pearl Harbor, because they cannot take you to the Arizona Memorial, only the government's boats can; see below.
Snorkel
The best snorkeling on Oahu is Hanauma Bay, just a few miles on the other side of Diamond Head (east direction) on the South side of the island. But it gets overcrowded, so they discourage visitors. There is public bus service, but they purposely make it lousy service. There are tour operators who advertise guided trips there.
Polynesian Cultural Center. Live museum and live shows featuring all the major people/culture groups of the Pacific - Samoa, Tahiti, a bunch more. It is very popular. But be informed that the Mormon Church built it on the campus of their college. So the young people performing are also students of BYU. And it is very far from Waikiki, near the north tip of the island. A normal tour is a meal and a show, optionally seeing the Polynesian villages. I went to the show on our first visit, but haven't been back including the two years we lived there.
Pearl Harbor. There is tourist transportation to the visitor attractions. It is near the airport. It is best to go early in the day.
There are now two major attactions there, plus a minor one. The Arizona Memorial National Monument is a visitor center plus free boat to the memorial, which is a stunning open-air white marble building directly over the sunken ship, which can be seen just below the surface. It is one of my favorites, because even if you have to wait for the boat the setting is beautiful and the refreshments are cheap. (Looking inland is where we lived for two years - up a ridge a bit to the left.) Entrance is free; they issue tickets on entry; each person must pick up their own ticket. In 2004 they were very strict in not allowing any kind of bag - fanny pack, camera bag, nothing at all. We got there early and still waited an hour plus to get into the tour.
The battleship Missouri, also at Pearl Harbor, costs around $12. On its deck in Tokyo Harbor the Japanese signed their surrender in early September, 1945. I know it's worth seeing; I have been on it three times. But it was when the Mighty Mo was in Bremerton, Washington, so I never paid! The Missouri tour includes a shuttle bus just from the parking lot to the ship. For $6 or so you can tour a World War II submarine, the Bowfin. All three of these attractions share the same parking lot.
Driving
Scenery - 3 trips
I. The best. Around the east end of the island to the Pali Highway. Get directions to get to highway H1 to Kalanianiole Highway (names like that roll off the tongue when you have heard them every day for a year!).
(My preference is to drive the ocean side of Diamond Head then the road turns inland to H1.) East to Hawaii Kai. Then to Hanauma Bay, then Sandy Beach, then the Blowhole. It is rough and wild with a golf course inland. Turn the east end of the island. Watch for the lighthouse. The northeast shore is called "the windward side" - Makapuu Beach. Past Sealife Park - what a beautiful setting with almost vertical cliffs that are green with growing vegetation. Then it is about 10 miles to Kailua and to the Pali Highway (Nuuanu Pali; Pali means cliff) that goes through two tunnels and returns you to Honolulu. This part is beautiful also. Back in the city get on H1 east bound. It is only a mile or so to the Waikiki exit at Punohou street. Allow at least three hours for this trip.
Optional: don't return to Honolulu. Continue past Kaneohe. First west, then north, then around the north tip of the island. This will make it an all-day trip that hooks up with the North Shore's surfing beaches.
2. Surfing and pineapples. Overview - West via H1 "interstate" to H2 highway to the North Shore surfing beaches. (The big waves are November to February or March. In summer the water is mild, sometimes smooth. The "North Shore" is the northwest shore on the map.)
Driving west on H1 You pass the neighborhood we lived in for 2 years when H1 passes Pearl Harbor by exit 10. We were about 3 miles up a ridge (to the right) overlooking a valley. Turn onto H2. When H2 ends follow Highway 99 (Kamehameha Highway, I think) to Haleiwa town, the home of Hawaii shave ice. Then continue along the beaches. Waimea Bay had the largest surfable waves in the world until recently topped by Maui! Pipeline Beach - people elsewhere call it Banzai Pipeline, but not here. Sunset Beach has an elementary school across the highway! Turn around at the north tip of the island. Allow at least a half day for this trip.
3. City view. There is a great viewpoint in the Punchbowl National Cemetary (see the history section below for driving instructions) within two or 3 miles. The hours are banker's, I mean bureaucrat's, hours. They close and lock at 4:30 or 5:00, well before sunset. As you enter it is to the left. If you find the closest parking the walk to the viewpoint is about two blocks, otherwise about 4.
Snorkel, beach
A car makes Hanauma Bay practical. It is the only really great snorkeling near the city. Take the highway east past Hawaii Kai about a mile (tour #1 above). Go early, it fills up. And check ahead because sometimes it is closed one or two days a week.
Farther east Sandy Beach is beautiful, but dangerous. You see local kids boogie boarding. But there is a "shore break," that is, the surf breaks directly on the sand. It will turn you upside down, so you land on your head and end up in the hospital. True.
Other Beaches - There are beaches on the north east - Makapuu to the east, Laie to the west (and north).
The "North Shore" is really north west. The beaches are safe in the summer. Not in the winter. See my note about Water Safety below. There is one very good, though small, snorkeling spot. Often called Shark Cove, it is Pupukea Beach Park. It has a shallow area that is pretty protected. When we lived on Oahu the Cub Scout group brought the boys here (and they all grew up on this island!). It is about a half mile past Waimea Bay. My distant memory tells me it is near a fire station and businesses. [new information]
The West shore of Oahu has some good beaches and some new resorts, but is distant from Waikiki. I put higher priority on all the other areas.
Hike.
Diamond Head. A road cuts through a tunnel on the inland side (We call that direction"Mauka" = towards the mountains) to the inside of the crater. Then there is a trail of about a mile, climbing 700 vertical feet. And bring a flashlight. Yes you climb some unlit stairs. World-class view from the top.
For the explorer. Honolulu is half mountains. Really. The city has mountains from the west end to the east. And every ridge has a water tank above the last homes. And most of them have an accessible trail. So you drive to the top of any ridge, park and look for a trail. Or likely a gated road at first. And it is quiet! Look inland from Waikiki. We did several of the ridges you see, while staying in a cheap condo with our kids. We headed off after sunrise, while the kids slept in. Did a two-hour hike and got back by 10:30.
US History
Punchbowl aka National Memorial Cemetary of the Pacific. The Pacific's equivalent of Arlington National Cemetary. It is a perfect little volcano with the top missing to make a perfect, almost flat area surrounded by little pinacles. There is a large monument with the names of WWII men missing in action . And a great set of mosaics that tell the entire story of WWII, both the big trends and the battles, plus Korea and Viet Nam. Don't miss it. ACCESS is from the Pali Highway - the return of scenery trip #1 - but is hard to describe. If you get to the uphill side - from either west or east - you are within a couple of blocks. I hope someone there can give better directions, because it is a gem and less than 3 miles from Waikiki.
Driving
To get to the Freeway - east, west. It's tricky. Ask at your hotel. Having lived in Honolulu (Aiea, specifically) and visited there several times, I am convinced that the local authorities intentionally make it hard for tourists to find their way driving, so they will give up and pay a local to guide them around.
From the Freeway to Waikiki. Eastbound (from airport and downtown) take Punohou Street exit. Right on Beretania - the first one-way street - for just one block; get in the left lane. Left on Kalakaua. After a few blocks it crosses the bridge into Waikiki. At first it is inland about 6 blocks. Then it angles to the shore and is next to the beach.
Water Safety
Ask about conditions. Unless the water is like glass ask local people about conditions before entering the water. A few beaches have life guards. In our two years there several people died swimming in rough water, most, but not all in the winter. But we were not afraid to swim, snorkel, boogie board, sail and let our kids play in the water - after we checked the conditions. Don't be afraid to go in the water, but be cautious.
Major Events on Oahu
When you plan your trip dates there are some major events that you might want to catch.
Honolulu Marathon We caught it by accident; Waikiki was a beehive of activity when we were there in 2003. At 6:30 to 7 in the morning hordes of peoople were walking, jogging and running everywhere. Second Sunday of December
Aloha Week Local events and a parade (I have seen this parade shown on TV on New Years Day - strange). Middle of October.
Ron Hebron
Seattle, Washington, USA