Vancouver BC is cutting medically necessary surguries to cut costs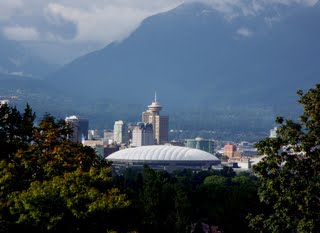 Government control of health care is puts caring bureaucrats in charge of decisions, not profit-seeking businessmen. But when everything is free for everyone too many dollars are spent unwisely. "But it's free." The misuse of resources requires cutting costs - of course. So how do they cut costs? Not wisely. They can't make the tough decisions so they cut across the board. In many cases they cut medically necessary surgeries.
That's what's proposed in Vancouver, BC, Canada - to cut over 6,000 surgeries over 6 months. And to cover the 2010 Olympics they have to close 1/3 of their operating rooms!
Vancouver Sun
Vancouver patients needing neurosurgery, treatment for vascular diseases and other medically necessary procedures can expect to wait longer for care, NDP health critic Adrian Dix said Monday. Dix said a Vancouver Coastal Health Authority document shows it is considering chopping more than 6,000 surgeries in an effort to make up for a dramatic budgetary shortfall that could reach $200 million.
"This hasn't been announced by the health authority … but these cuts are coming," Dix said, citing figures gleaned from a leaked executive summary of "proposed VCH surgical reductions."
The health authority confirmed the document is genuine, but said it represents ideas only. "It is a planning document. It has not been approved or implemented," said spokeswoman Anna Marie D'Angelo.
Dr. Brian Brodie, president of the BC Medical Association, called the proposed surgical cuts "a nightmare." "Why would you begin your cost-cutting measures on medically necessary surgery? I just can't think of a worse place," Brodie said.
According to the leaked document, Vancouver Coastal — which oversees the budget for Vancouver General and St. Paul's hospitals, among other health-care facilities — is looking to close nearly a quarter of its operating rooms starting in September and to cut 6,250 surgeries, including 24 per cent of cases scheduled from September to March and 10 per cent of all medically necessary elective procedures this fiscal year. The plan proposes cutbacks to neurosurgery, ophthalmology, vascular surgery, and 11 other specialized areas. As many of 112 full-time jobs — including 13 anesthesiologist positions — would be affected by the reductions, the document says.
"Clearly this will impact the capacity of the health-care system to provide care, not just now but in the future," Dix said.
Further reductions in surgeries are scheduled during the Olympics, when the health authority plans to close approximately a third of its operating rooms.
Two weeks ago, Dix released a Fraser Health Authority draft communications plan listing proposed clinical care cuts, including a 10-per-cent cut in elective surgeries and longer waits for MRI scans.
The move comes after the province acknowledged all health authorities together will be forced to cut staff, limit some services and increase fees to find $360 million in savings during the current fiscal year.
In all, Fraser Health is looking at a $160-million funding shortfall. D'Angelo said Vancouver Coastal's deficit is closer to $90 million — almost a third of which ($23 million) has already been absorbed through reductions in non-clinical administration efficiencies.
Vancouver Coastal performed 67,000 surgeries last year, an increase of 6,500 surgeries over 2007. "What has now happened is that now our wait times are about 25 per cent lower than the provincial average," D'Angelo said. "We have put a dent in that wait list."
Brodie acknowledged surgical waiting times have dropped significantly in recent years, particularly for patients needing hip and joint replacements. He said the proposed cuts threaten those advancements. "It sounds like we are going backwards here," he said.