Choose carefully the color you wear on the streets of Bangkok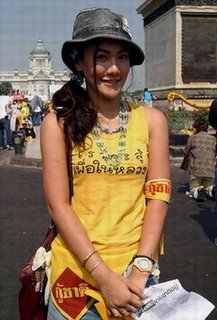 Choose carefully the color you wear on the streets of Bangkok. Colors have meanings, you know.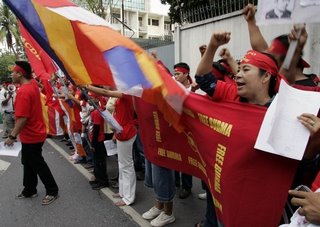 Bangkok Post
Red or yellow? Green or orange? Blue or pink? - think carefully before choosing the colour of your outfits in this time of colour politics.
Most people may have thought the colour war had reached its climax when the "reds" from the pro-Thaksin group clashed with the "yellows" from the People's Alliance for Democracy (PAD) on Ratchadamnoen Avenue earlier this month.
But the reds v yellows confrontation turned out to be only a preface of the colour battle, after the leading candidates in the gubernatorial race unveiled their election campaigns.
Apart from the already-politicised colours like red and yellow, green, blue, orange, red and pink are now no longer just colours.
They carry political baggage, at least in Bangkok.
"Laggards tend to like light blue," commented No 2 city governor candidate Kriangsak Charoenwongsak.
Light blue is the theme colour of his arch-rival Apirak Kosayodhin, the former governor who is now seeking a second term under the Democrat party banner.
"I didn't mean to attack any person, but you have to agree with me that the blue-lovers are mostly slow-going people," said the 53-year-old independent candidate.
The academic-turned-politician picked dark green, light green and yellow as his theme colours.
Yellow symbolises wisdom, light green means the bloom of new ideas, while dark green represents a big tree that provides shade and fruit to others, Mr Kriangsak said.
For Mr Apirak, light blue signifies a totally different meaning.
"It's the colour of freshness, hope and the future. I want Bangkokians to help me create a bright future for our city together," he said.
More importantly, light blue was the logo colour of the Democrats, said Mr Apirak.
He also used it as his theme colour in the 2004 Bangkok governor race, and he won.
Orange is the colour of choice for People Power party candidate Prapas Chongsanguan. He said he likes the colour because it looks "lively and energetic".
When asked if the colour symbolises reconciliation, as it is a mixture of red and yellow, he chuckled: "Yes, maybe."
Another leading candidate, Chuwit Kamolvisit, has bombarded Bangkok with black-and-red posters.
"I'm not afraid that people will brand me as a member of the pro-Thaksin group," said Mr Chuwit, referring to the United Front of Democracy Against Dictatorship (UDD), which uses red as their symbolic colour.
During his campaign trips, Mr Chuwit always dons a white shirt with a big red "8" and his name stitched on it, plus a crimson tie.
"I'm confident that I can talk to any group - from the UDD to the PAD," said the former massage parlour tycoon.
Red helped catch people's eyes on his posters and billboards, while black stands for his straightforwardness, he added.
No 7 candidate Leena Jangjanja, 49, comes in pink.