Paul Allen at Kealakekua Bay, Hawaii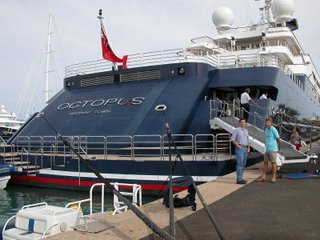 On a snorkeling trip at the Big Island Friday we saw a huge yacht with a helecopter taking off from it. I wondered if it were Octopus, Paul Allen's yacht that was the largest private yacht in the world when built. I was right. It's 417 feet long, has a full-time crew of 60, 7 boats - and a submarine!
This was just off Kealakekua Bay, where Captain Cook was killed. A beautiful spot.
I found a site where the locals are posting photos - and complaints -
at Flickr